Responsive design is the "big thing" in web design right now. But if you are not a designer, you may be wondering what this term means. You might also be unsure as to whether or not business's website should be implementing responsive design, especially if you do not understand the concept.
A responsive website is different from a mobile friendly website.
Basically, a mobile friendly website will look good on mobile devices. But might have glitches and be harder to navigate when viewed on devices with a higher resolution. While a responsive website is a website design that allows your website to adapt to the size of any screen it is being viewed on. So it could be viewed on say, a desktop, phone, or a tablet etc and users won't 'notice any difference' in your site's general appearance on their screen.
The ultimate goal of responsive design is to avoid the unnecessary resizing, scrolling, zooming, or panning that occurs with sites that have not been optimized for different devices. It is often very difficult to navigate these sites, and it may even cost you potential customers who become frustrated with trying to figure out how to do something.
Responsive website design also replaces the previous need to design a dedicated mobile website for smartphone users. Now, instead of designing multiple websites for different screen sizes, you can design just one website that scales up or down automatically to match the device it's being viewed on.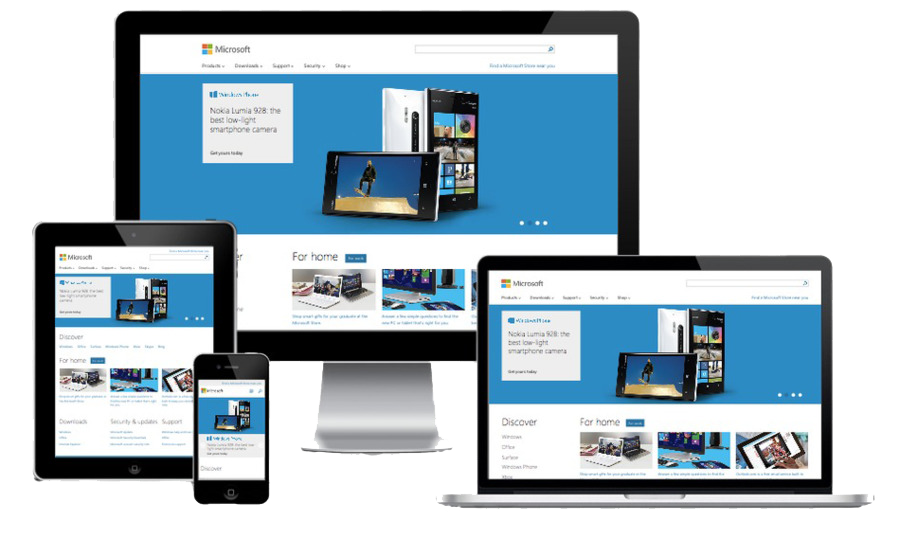 Why should you invest in responsive design?
In the past few years, the use of smartphones has grown rapidly. In 2014, only 22% turned to their phone first to browse the internet. Only 2/3rds of people even owned a smartphone. Since then, the roll-out of 4G internet and other innovations impacted the way people used mobile devices; throughout 2014, 4G subscriptions skyrocketed from 2.7 million to 23.6 million.By the end of 2016, mobile web usage had overtaken desktop for the first time, which just goes to show how many people browse on smartphones and tablets instead of a laptop or desktop computer. This highlighted a dramatic shift in behaviour; with the UK using their mobile devices to shop online, carry out online banking and scroll through social media.
Ofcom reported at the time, that 7 in 10 adults use a smartphone, with over-65s now more likely to use one too, as the public becomes even more tech-savvy.For these reasons alone, it became hugely important to invest in responsive web design ; your business needs a website that works well on a smartphone or other mobile device screens, due to the sheer amount of people who could be using your website through a smartphone or tablet.
A Responsive Website Improves Your SEO Efforts
Responsive websites have a greater likelihood of ranking high in SERPs.The 'user focused' experience, and high-quality content could increase your dwell time. Thereby making users stick around for the long run.Google recommends a responsive website design pattern. Besides, it makes for a good user experience and improves your SEO efforts across all platforms.In conclusion, having a responsive website can save you lots of money, maintenance time and also help you to convert and retain more clients in the long run.