Why TRACKER is important for CFS and ICD?
Considering the digital era and complexity in handling and maintenance of Container Freight station and Inland Container Depot it is mandatory to provide something to customs which offers speed and efficiency while performing activities related to imports and exports.
TRACKER is a comprehensive web-based CFS and ICD management software solution to simplify the complexity and exhaustive list of activities that need to be carried out on a daily basis of CFS/ICD operations. It is a single window solution for all activities happening in and around a CFS/ICD.TRACKER addresses Import and Export of variety of commodities right from Job Order generation up to gating out of goods from Container Freight Station.
TRACKER is designed to optimize operations of gate, yard, warehouse and also other commercial activities. Adopting TRACKER would help one to monitor the detailed activities of CFS and ICD it also enables various processes which the customer demands the most.
Web UI
Especially designed for CFS management and Managers which is going to be helpful when you're away from your desk and would like to monitor CFS performance. Access it from anywhere, anytime, on the fly. Daily activity report with MTD and YTD figures. Collections and Movement graphs month wise Loaded and Empty inventory figures Port pendency Dwell time Fuel consumptions etc.
Mobile UI
Single mobile app which is deployed for both customers and in-house staff both. Customers can perform container search whereas in-house users can enter and track PORT IN or PORT OUT containers. An interactive feedback window is too available for your customers to raise any concern or query which can be replied by CFS customer care in same window and which can be visible for both for future reference.
Features and Highlight of software
GST portal
Special care have been taken on Amendments / Data correction rights to super user. No need to keep onsite support engineer for correction.
Tracking Audit trail, Graphical representation of Dashboards location wise as well as consolidated, and Confidential Management report summary in one click.
Auto emailing of outstanding to clients.
Daily auto emailing of all the invoices
Automated daily activity reports to give insights of operations and finance to management.
Expense booking and other related accounting entry provision exported to Tally.
Mobile apps for containers and cargo tracking
This year, we are also in process of implementing of AI (Artificial Intelligence) features in our CFS system for better accuracy and to help management to fetch out better output of invested resources
Fully customizable for integrated module. i.e Purchase, Garage
Customer wise web based access for external users.
Additional Features of TRACKER:
MIS Reports
Single Click Report Daily Movement/Activity Report We actually make ONE CLICK report possible. Daily Movement/Activity reports to give insights of operations and finance to core management is available anytime, anywhere on just one click.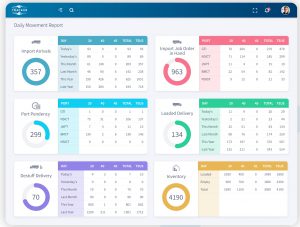 In-analytic depth feature
Our intuitive Dashboard allows users to take advantage of in-analytic depth features even if they possess minimal technical abilities.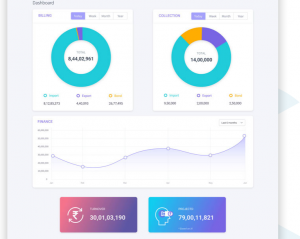 Auto Email
Periodically auto emailing to Customers with outstanding invoices to save ample of working hours of Account staffs.